#a2n_werkstatt 2012 presents:
REMIX LAB: "Handmade Electronic Music" presented by SEBASTIAN ARNOLD, STEVE PFAFF & BERNHARD RANGE
//The noisy Rooms will become a musical playground for SEBASTIAN ARNOLD (Drums), STEVE PFAFF (Bass) and BERNHARD RANGE (Sampling) in these two Lab Sessions. The three musicians from Berlin, all with a distinct electronic background, will meet for the first time and have an improvised clubmusic session. A major concept of this session will be to create an experimental setup that gives the players the possibility to interact with the electronic system and each other in an expressive, musical way.
Communication between the world of acoustic instruments and electronic devices has always been a challenge for musicians working with computers. Most of the popular solutions are putting a clear focus on one of these worlds, with the other side being subordinate to it. Think of a drummer being bound to a click track once a computer hits the stage. Or a band that suddenly loses all of the groove because the guitar player dictates the tempo with his brand-new loop station. Not to think of the possibilities that software nowadays has – until you have to touch the mouse more often on stage than your instrument. On the other hand, playing every note yourself with all available limbs on a midi keyboard will waste a lot of the potential that a computer system has.
In this Lab, we're looking for the simple solutions that can make a big difference to your playing. And we'll turn things upside down. We will trigger bass sequences that synchronize to the drummer's timing. We will interact with electronic devices by using bass strings, drum heads, pads and microphones. We will mimic reality using electronic devices. We will mimic computers with acoustic instruments. We will possibly fail. But that finally is the most interesting part of all that.
The Lab is divided in two sessions and open for everyone to watch and interact. The first session will be an exploration, demonstration and discussion of different techniques as well as some spontaneous musical emergences. The second session will focus more on playing the setup and creating an ongoing groove and atmosphere.
///////////////
SEBASTIAN ARNOLD is a drummer, electronic sound artist and multi-instrumental performer. Having a strong background in computer science as well as improvised music, he is exploring the intersections between traditional playing styles and electronic music. He is best known for his solo performances on drums and synthesizers that have solidified as a sort of futuristic one-man-band with international perception and three album releases on his own label beeah-music. (Foto: Rolf Wöhrle)
_________________________________________________________________________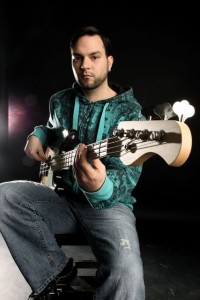 STEPHAN 'STEVE' PFAFF studied at Jazz-Institut-Berlin and made his mark as a bass player for Tim Bendzko, P.R. Kantate, various musical productions as well as his own formations "Puls", "Klartext" and as a session player for TV and radio. (Foto: Sceneline Studios)
_________________________________________________________________________
BERNHARD 'BURN' RANGE studied Jazz-Drums in Rotterdam and Berlin. As a member of the Berlin-based creative collective 'freiflugfilme' he has founded the live electro performance project "VEB Elektrokohle" and is producing music for film and theatre plays. (Foto: Steve Pfaff)
///////////////
Title: HANDMADE ELECTRONIC MUSIC
Who: SEBASTIAN ARNOLD, STEVE PFAFF & BERNHARD RANGE
When: THURSDAY, 6 SEPTEMBER 2012, 11:00-16:00UHR
Where: GROSSER PROBERAUM #21
Track: REMIX LAB
Language: ENGLISH
//////////////
#a2n_werkstatt @noisy Musicworld, 6/7 September 2012, Warschauer Straße 70a, Berlin-Friedrichshain