Compared to earlier times we live in an era of not only musical but also technological abundance. The facilities to create, produce, distribute, store and upload music are enormous. Now with wahwah.fm it only serves to take it a step further, allowing as well to artists to broadcast their music to the their fans. We have gathered a panel constructed of people who build, use and write about new technologies. With their help we would like to explore how such developments effect the creation process, what does that mean for the music market and try to find out what the future has in store for us.
The Session will be streamed live at wahwah.fm!
//////////////////////////////////////////////////////////
Freitag 04.11.2011 | Kater Holzig Kino | 18:00 - 19:00
- presented by wahwah.fm -
//Discussion [english]
**Ari Stein | wahwah.fm
**Gavin Burke | Future Audio Workshop
**Alonso Dominguez  | sugarhigh
**Verena Dauerer | Journalistin
/////////////////////////////////////////////////////////
Learn more about the panelists:
Verena Dauerer, freelance editor, trend researcher and journalist (including from German de:bug up to Japan Times) from Berlin and Tokyo; has been sharing her time between these two cities for the recent years: in Tokyo from 2006 until 2008 as editor of English-Japanese PingMag.jp magazine; back in Germany in 2009 as tech editor of German PAGE and WEAVE magazines from Hamburg. Returned to Tokyo in 2010 as editor of English-Swedish Spana art magazine, a division of governmental organization Swedish Traveling Exhibitions. 2011 in Berlin: implementation of English-German mb! magazine for Mercedes-Benz.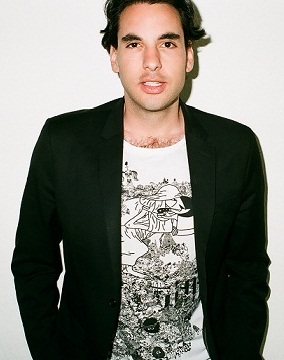 Alonso Dominguez has no specific reason to be in Berlin. He has called six countries home, speaks five languages and is a professional tap dancer. In line with a lifetime of keen passion for the Zeitgeist, he co-founded SugarHigh where he functions as creative director–constantly taking a stab at cultural voyeurism with only a Mexican passport and a seemingly endless supply of gin in his arsenal. Before landing in Berlin he has worked as content producer for ASMALLWORLD (asw.com), he was responsible for the editorial at City Weekend in Shanghai, and he also worked in advertising and events at Giorgio Armani in New York. His favourite colour is red.
Gavin Burke is the CEO and Founder of Future Audio Workshop, thedevelopers of the awarding winning Circle music synthesizer and theDeadmau5 series of iOS applications. Currently residing in Berlin,Gavin was born and raised in Ireland. He cites his exposure to thecountries rich and deep folk music tradition as shaping his love ofmusic and forming his views on music's higher importance in societythan just a means of becoming famous and making money. "Growing up in Ireland, music was something you shared communally through liveinstrumentation and singing… the motives being nothing more than thejoy of shared human experience. This experience gives you a differentview point to that of music as a industry."
Ari Stein hails from the sunny shores of Australia, a long time resident of not only Berlin but also the music industry. He has worked within "the" business for over six years, first starting out as mail room boy at the Warner Music label in the UK, he then went on to work as an A+R/ label manager & distribution manager in Australia at various companies, looking after the Beggars, Domino and 4AD labels. He most recently worked as a booking agent for acts like Mount Kimbie, Chairlift, The Bug, Deerhunter and many more whilst also finding time to write a movie and take it to Hollywood . Someone who got his beginnings as a music journalist, Stein also recently finished a stint as the news editor for Electronic Beats online at the beginning of 2011 after almost two years. Now, he assumes the role of Head of Communications for wahwah.fm. An avid fan of all things cultural, he counts finding new music acts, watching documentaries and partying as his most prized past times.